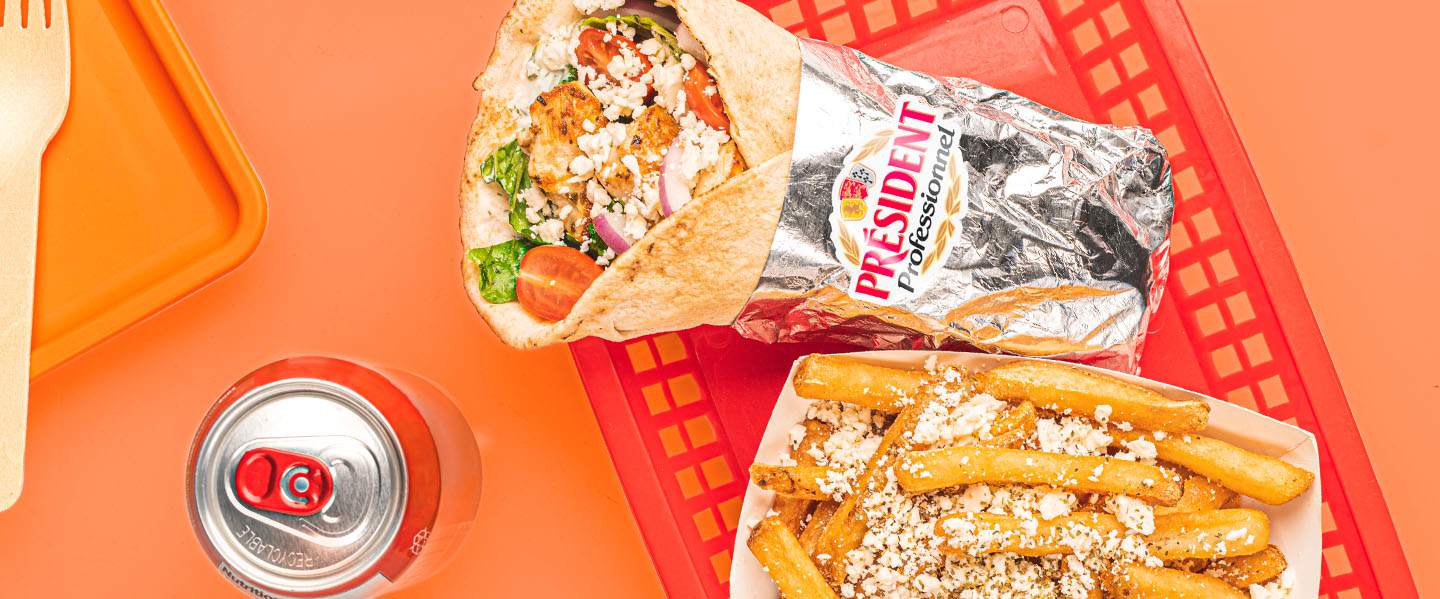 Chicken Souvlaki Pita with Homemade Tzatziki & Greek Lettuce
Ingredients
CHICKEN SOUVLAKI:
2 Large chicken breasts
4 tbsp olive oil
1 Lemon juiced
3 garlic cloves, minced
1 tbsp dried oregano
1 tsp dried parsley
½ tsp salt
TZATZIKI:
½ cucumber, grated,
1 cup Astro 6% Balkan Yogourt
½ lemon juice & zest
1 tsp olive oil
½ tsp white vinegar
1 garlic clove, grated
2 Tbsp chopped dill
¼ tsp salt
GREEK LETTUCE:
1 romaine heart, chopped
2 green onions, chopped
4 Tbsp dill, chopped
1 Tbsp parsley, chopped
¼ cup olive oil
½ lemon, juiced
¼ tsp salt
¼ tsp dried oregano
TO BUILD PITAS:
4 pitas
1 red onion, sliced
16 cherry tomatoes, halved
President crumbled feta
Directions
CHICKEN SOUVLAKI:
Cut chicken into 1inch pieces and place in mixing bowl. Add 3 Tbsp olive oil, lemon juice, garlic, oregano, parsley & salt. Mix until chicken is evenly coated. Cover with plastic wrap and place in fridge for 30 minutes
Heat a frying pan over medium high heat. Add remaining 1 Tbsp of olive oil to pan. Cook marinated chicken for 6-7 minutes per side, or until internal temp reaches 165℉
TZATZIKI:
Squeeze or strain excess liquid from grated cucumber
In a bowl, combine cucumber, yogurt, lemon juice and zest, olive oil, vinegar, garlic, dill & salt. Stir until well combined.
GREEK LETTUCE:
Place romaine, green onions, dill and parsley in a bowl
In a measuring cup, whisk together olive oil, lemon juice, salt & oregano. Pour over romaine mixture and toss until evenly coated.
TO BUILD PITAS
Spread tzatziki on pitas. Top with greek lettuce, chicken souvlaki, red onion, cherry tomatoes and president crumbled feta. Finish with extra tzatziki if desired and enjoy!