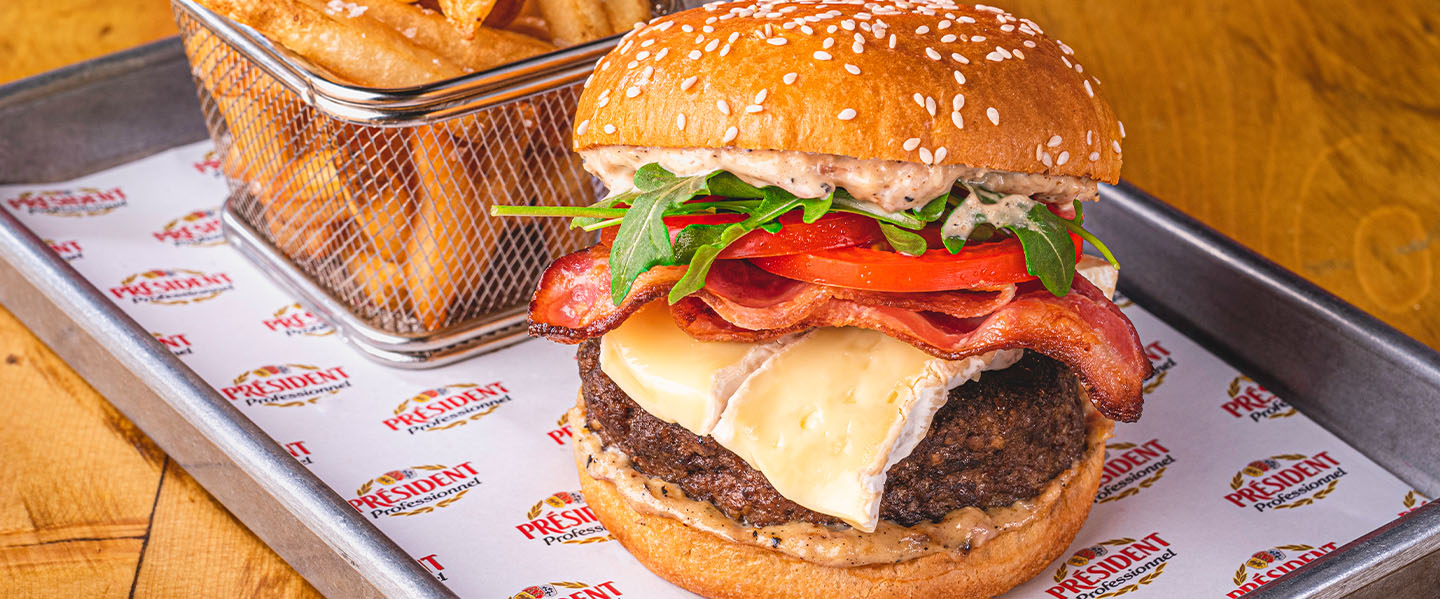 Bacon Brie Burger with Roasted Red Onion Aioli, Tomato & Arugula
Ingredients
ROASTED RED ONION AIOLI:
1 large red onion,
chopped
1 Tbsp olive oil
1 cup mayo
1 Tbsp apple cider
vinegar
1 tsp garlic powder
BURGERS:
1.5 lbs ground beef chuck
(80/20 blend)
1 tsp worcestershire
1 tsp dijon
1 tsp salt
4 hamburger buns
8 slices bacon, cooked
8 slices President Brie
4 slices tomatoes
1 cup arugula
Directions
ROASTED RED ONION AIOLI:
Preheat oven to 425 ℉
Peel and chop onion into chunks. Spread evenly on a parchment lined baking sheet and drizzle with olive oil.
Bake on middle oven rack for 15-20 minutes or until onions are soft and golden. Let cool for 5 minutes
In a food processor pulse onions 5-6 times. Add mayo, apple cider vinegar & garlic powder. Pulse until combined.
BURGERS:
Place ground beef, worcestershire, dijon & salt in a mixing bowl. Using your hands, incorporate all ingredients until evenly combined.
Divide mixture into 4 balls and form into patties roughly 5 inches wide Cook patties on a preheated grill over medium to high heat for 5-6 minutes per side (or until internal temperature reaches 160℉ .
During that last 2-3 minutes of cooking top patties with 2 slices of brie each.
To build burgers: spread roasted red onion aioli on the bottom and top of your buns. Place cooked patties on bottom bun and top with cooked bacon, tomato & arugula. Serve and enjoy!
Tips
Leftover roasted red onion aioli
can be used as a dip or be stored in the fridge for up to 1 week.